Zombies are undead creatures from the
Wizard World
that have appeared in some episodes. They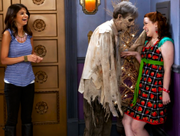 are considered
 monsters
, and they speak "zomb-ish".
Alex
explains in
Get Along, Little Zombie
that every wizard learns it when they are little, and she translates what Abercrombie, the Zombie said to
Harper
. Abercrombie thought, according to Alex, that her brains smelled "cute and tasty". They eat
human
brains. When he bit into Mr. Laritate, he turned him into a zombie and it is shown that they can control themselves and not eat everyone they see. Zombies were also in Wizards & Vampires Vs. Zombies , and it is shown that they can also speak English. They live in a graveyard and have ripped clothing. They were "invited" to a zombie prom that Max accidently sent to them, and came close to eating some of the students. They said they were in a music video, possibly Thriller. They were challenged to a dance off, by the zombie prom students. They lost, including losing some of their body parts.
Community content is available under
CC-BY-SA
unless otherwise noted.