Zeke Beakerman
Character Information
Full Name
Zeke Beakerman
Gender
Male
Age
18
Resides in
New York City
Occupation
student/ alien league leader
Family
 ?
Powers
 ?
Love Interest
 ?
Zeke Beakerman (Dan Benson) is a friend of Justin. Zeke is considered "cool", yet nerdy. He attends Tribeca Prep and is in advanced chemistry along with Justin. He is also part of an "alien language" club; he and Justin often "speaks alien" to each other. Dan Benson, however, first appeared in "Movies", where his name was Zack Rosenblack and he was later re-cast as Zeke Beakerman. He and Justin are also on the same Quiz Bowl team in "Smarty Pants". Zeke and Justin have tried out for several sports teams, but have apparently failed at all of them except Justin in the basket ball team, and Zeke in cheer leading . In "Fashion Week", they somehow succeed at talking to models. Zeke got the role of Peter Pan in the school play in "Fairy Tale". In the episode "Wizard For a Day", he is upset when the real aliens do not understand his "alien speak". Zeke and Harper go to "Zombie Prom" together. As of Season 3 Zeke has been featured in episodes more often. In "Alex Saves Mason", he came close to finding out The Russos' secret, after seeing Mason transform from a wolf to an in between stage of human and wolf. It is rumored he may become a main character in season 4.
Appearances
Season 1
Movies (as Zack)
Report Card
Season 2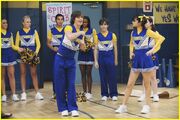 Smarty Pants
Racing
Alex's Brother Maximan
Baby Cupid
Fairy Tale
Fashion Week
Paint By Committee
Wizard For a Day
Wizards & Vampires vs Zombies
Season 3
Marathon Helper
Positive Alex
Detention Election
Third Wheel
Dad's Buggin' Out
Alex Russo Matchmaker
Delinquent Justin
Wizards vs. Finkles
All about you-Niverse
Wizards Unleashed
Wizards Exposed
Relationship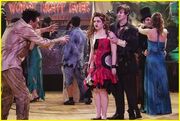 Harper Finkle
Zeke has shown interest in Harper, but the two have gone on a date at Alex's Zombie Prom. Zeke accepted when Harper asked him immediately, and appeared to enjoy himself with her, often complimenting her. In "Alex Russo, Matchmaker?", Alex convinces Zeke to ask Harper to be his science fair partner after Justin decided he wanted to be alone in the Science fair this year. He said that he's always wanted to talk to Harper, and they both have a crush on each other. In Wizards Unleashed, they have their first kiss.
Community content is available under
CC-BY-SA
unless otherwise noted.