Jurassic World: Dominion Dominates Fandom Wikis - The Loop
Play Sound
For the front page, click here.
Wizards of Waverly Place was a Disney Channel Original television series that premiered on October 12, 2007 and ended on March 15, 2013. The series was created by Todd J. Greenwald and stars Selena Gomez, David Henrie, and Jake T. Austin as three wizard siblings with magical abilities competing to win custody of the family powers.
The further main cast includes Jennifer Stone, Maria Canals Barrera, and David DeLuise. In June 2010, Disney Channel renewed the show for a fourth season. It also announced plans for a second film based on the series. Gomez confirmed in an interview that the fourth season will be the show's final season.
Premise
Set in Waverly Place in Manhattan, New York's Greenwich Village neighborhood, Wizards of Waverly Place centers on the Italian-Mexican Russo family, which includes Alex, her older brother Justin, and their younger brother Max. The three Russo siblings are wizards in training and live with their father Jerry, a former wizard, and their mother, Theresa who is a mortal.
Alex's best friend Harper also found out about the Russos' wizard powers in the Season 2 episode "Harper Knows". The siblings have to keep their secret safe while living in the mortal world. When they all complete their wizard training, the three siblings will have a wizard competition to decide who will become the family wizard of their generation and keep their powers forever while the others will lose their powers for good and become mortal. Because of this, Jerry is always trying to get the kids not to rely on magic, because they might not have it someday. The magical world tends to be very eccentric and surreal.
Episodes
Wizards of Waverly Place premiered on October 12, 2007, and ended on March 15, 2013, with 108 episodes, and spanning 4 seasons.
Main Cast
For more, see: Characters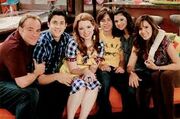 Merchandise
See also