"Wizards & Vampires vs. Zombies"

Season 2, Episode 29
Air date

August 8, 2009

Writer
Director
Episode Chronology
←
Previous
→
Next

"Retest"
Wizards & Vampires vs. Zombies
is the twenty-ninth episode of
season two
of
Wizards of Waverly Place
, and the fiftieth of the overall series. It first aired on August 8, 2009.
Synopsis
Justin asks Juliet to prom, but Juliet tells him that she has already been to lots of proms, and it's common for proms to involve high expectations and big let downs. However, she accepts his invitation and Justin promises Juliet a 'dream prom'.
Meanwhile, Alex organizes a zombie-themed anti-prom, and Harper hopes to ask Zeke to go with her but is too scared to ask. Max gets an offer from the wizard mail to test out a new wizard device called a "no-fear ring", which disables fear. When Alex gives Max fliers for "zombie prom" to hand out, Max accidentally sends the fliers into the wizard mail portal, and the fliers are sent to the zombie world.
Meanwhile, Alex pickpockets Max's no-fear ring and gives it to Harper so she will have the courage to ask Zeke to zombie prom. Justin decides that at prom, he will serenade Juliet on stage, and then ask her to go steady. At real prom, just after he asks Juliet to go steady with him, Alex interrupts to warn Justin about the Band which everybody then goes to.
At the anti-prom, while Harper stands up to the zombies, Max realizes that he had sent the wrong post, and locks all the doors. Then, they have a dance-off and the wizards, with Juliet, win. Assuming that they're the drama club from another school, to which Justin and Alex realize that Max doesn't need the no-fear ring because he already has no fear. Realizing the popularity of the anti-prom, Alex and Harper decide that next year they will go to real prom. In the end, as Justin and Juliet dance, Juliet tells Justin that she will go steady with him and they kiss.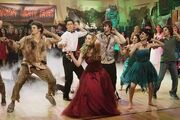 Production Notes
Magical Beings
Continuity
Starting with this episode Harper states she has a crush on Zeke.
The name of 'Zombie Prom' is referenced in an earlier episode.
Though they are monsters, no one reported the Zombies to the Monster Hunters.
Trivia
The dance-off at the prom with the zombies is similar to Michael Jackson's Thriller.
This episode ends the "Wizards vs. Vampires" episode arc.
One of the zombies mentions they were in a music video, likely Thriller.
Juliet claims to have gone to prom with Galileo.
A gag in this episode is mentioning Lil' Galileo.
Lil' Galileo is a parody of Lil' Wayne.
Justin and Juliet share their first kiss.
Goofs
When the leg of one of the zombies falls off, you can see the actor's real leg several times.
Gallery
Community content is available under
CC-BY-SA
unless otherwise noted.