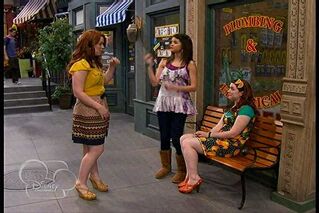 Waverly Place is the pedestrians-only street where the show is set.
Shops
Waverly Sub Station - The substation is the sandwich shop on the corner of the street where the Russo family works. It is supposedly the most popular restaurant on the street. It is also the largest shop on the street.
Gurt Barn - A frozen yogurt shop where Harper works in the episode, "New Employee".
Late Nite Bite - A castle themed restaurant which belongs to the Van Hueson's and is down the road from the Waverly Sub Station.
Frankie also owns a magazine stand outside the substation.
Skate Shop - Across the street is a small skate shop, though it is never featured.
Murrieta Clown Supply - At the dead-end of the sidewalk is a clown supply store named after the show's executive producer, Peter Murrieta. In "Marathoner Harper", it sponsored the marathon, and in "Wizards vs. Werewolves", Max asked the store clerk if he had seen Mason.
Plumbing & Electrical - There is a small hardware store across the street from the substation and beside the skate shop, though it is never featured.
Market - There are numerous stands scattered about that usually sell food, including a produce stand. Harper once set up a stand selling jewelry, but made no profit.
Salad Bowl - Featured in "Wizard School (Part 2)", the Salad Bowl was a rival restaurant across the street from the Sub Station. The restaurant stole customers from the Sub Station, but later stopped due to Max's intervention. It has not been mentioned since.
Features
There are a number of potted plants scattered around. All the upper buildings are apartments like the Russo's. There is also a fire hydrant in front of the skate shop. In the middle of the street lies a bench and a trashcan.
Trivia
Its a pedestrian-only street, yet in "Taxi Dance", Cab 804 was allowed to be parked there.
The 'Little Miss Waverly Place Pageant' was held on Waverly Place.
There is a real street in New York's Greenwich Village named Waverly Place. Unlike the version shown in the show, the real street is accessible to one way traffic.