About me
Hi. Of course, because you're on my page, you'd like to know more about me. But really, all you need to need to know is I am NOT old NOR a crazy cat lady. I am perfectly normal, and you should know that now because I just said so. Really, you read it because I wrote it on my page.
Okay so...... yeah, you probably think I'm weird for using a whole paragraph on explaining how I'm a normal person editing Wikia.
And FYI, I am. (not about me being weird, but how I'm normal)
Yeah, I exaggerated now. So here a few things you ought to know about me:
I am a nice person, but I hate mean people (makes sense, right?)
I like talking to other people and making new friends, so if you want to chat, just ask me! (though not on mondays, I usually have a lot homework on that day to finish...)
I like to read, and write stories. ( Right now, I am currently writing short stories that will all be bunched up in one, to make a novel. But I'm too young to write one, so I let my friends read them and get extra credit in English at school! )
My favorite flavour is barbecue. Seriously! Anything BBQ flavoured, I'll eat it! (even ice cream..... I love ice cream...... especially vanilla and caramel...... I hate mint chocolate flavour)
I like Emily Osment's music. I love how her music style ranges from rock, to somewhat "guitar only background" music. It gives me plenty of of different styles of music by the same, young artist!
thumb|270px|right|"Lovesick" by Emily Osment. This song is so addicting! I can never tear myself apart from this video, when I'm online.Check out this really awesome song!----------------------------------------------------------------------------------------------------------------->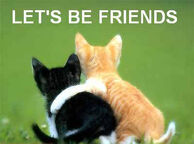 thumb|454px|left|This baby is so cute when he laughs. Watch the vid!!!!!!!!!!!!!!
Community content is available under
CC-BY-SA
unless otherwise noted.