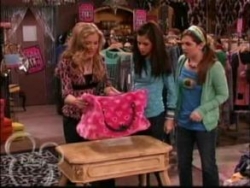 Suburban Outfitters
is a teen/tween clothing store mentioned in the first episode of the series,
Crazy 10-Minute Sale
.
Crazy 10-minute sale
(main article-Crazy 10-Minute Sale) Each year, Suburban Outfitters holds a sale, where everything is at least 1 quarter of its price. It is located on the high street, as shown in Harper's driving test. They jumble stock around to make it harder to find items,(e.g. in Crazy Ten Minute Sale, GiGi sneaks in and hides the jacket her and Alex want, which Alex buys after she finds it in clothes she's hiding in. It is located next to a Chinese takeaway in Lucky Charmed, however, in Crazy 10-Minute Sale, it is next to the park.
It's a parody of Urban Outfitters.
Community content is available under
CC-BY-SA
unless otherwise noted.