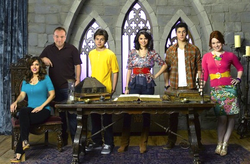 Alex Tells The World-
Edgebonoutoosis- Duplicates a person
Alex Gives Up-
Garbage man, dumpster land, giving a hand to the trash can-
Takes out the trash
Journey To The Center of Mason-
Proton, Neutron Get Gone' '- Shrinks something
Proton Neutron Back to one - Brings something back to regular size
Three Maxes and a Little Lady-
Morpheus Morpharium More Fish Please (object or person) - Turns the spell caster into the object or person named in the spell
Here's the brass tracks, turn this girl into Max - Turns a girl into Max, but due to the previous mutation spell, it had no effect.
Daddy's Little Girl-
Fly swat now rot - Makes hands and feet move rapidly
Everything's Rosie For Justin-
This that copycat- Makes the person casted on copy the spellcaster
Not this nor that no more copycat- Reverses the Copycat Spell
Dancing With Angels-
Key Largo, Key West, Keychain- Turns the object into a key chain
Wizards Vs. Angels-
Sobbing cries change turn these girls into older guys. — turns girls into elderly men. Fruity Patutti — turns people into fruit. Rip torn. Rip Taylor. Rip bag - Rips a Bag from the bottom. Without wand or robes, make this angel slow—Slows downs angels.
Zeke Finds Out-
Chancy meat, schmancy treat, fancy feet is now complete- Separates legs from body
Tick tock, time was stopped, bang the gong, time moves on - Resumes time from unnamed time freezing spell
This is no longer cute put his voice on mute- Mutes the person
Magic Unmasked-
Lucha Ba Boom- Makes someone a good wrestler
Lucha Ba Boom, but stronger- Makes someone a better wrestler than the Lucha Ba Boom spell
Lucha Ba Boom, Muy Macho's doomed- Makes someone a strong enough wrestler to defeat Muy Macho
Wizards have an ability to show flashbacks to other people.
Meet the Werewolves-
Eatza Eatza magic pizza, change them back from head to feetsa - Turns someone back into their age when someone eats the pizza with the spell on.
Put my stomach in a good mood, make this taste like kid food. - Turns someone into toddlers when someone eats something enchanted by the spell
Yummy cookies bring lots of cheers, gobble them up and add some years - Turns someone into teenagers when someone eats the cookies that were enchanted
Give us hair and fur and big old teeth for sure - Turns a person/people into a werewolf/werewolves.
Misfortune at the Beach-
Vice versa (Name) and (Name) reverse-a - Causes the people named in the spell to switch locations
Fix the fan, make it right, make it blow with all its might. - Causes a fan to blow with full power
Justin's Back In-
H2 Russo- Puts a Russo in the Waterfall of Wikkenberry
Rock,rock,until you drop-Turns someone into a statue
Alex The Puppetmaster-
Turn this clever spellcaster into (Name) the puppetmaster - Turns someone into a marrionnete
Build a stage to earn a hefty wage - Builds a stage
(Family/Person's Name) and (Family/Person's Name) clean the slate, meet again and change your fate- Causes the people/person to forget meeting the other person/people.
Wizards of Apartment 13B-
Fanshee schmancy get rid of the banshees - Gets rid of screaming banshees