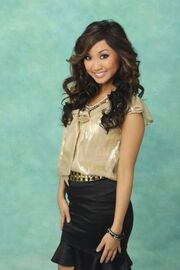 london tipton will appear in the double crossover episode(wizards on deck with hannah Montana)
max russo has a crush on her. london tipton(played by brenda song) was born into a very rich.her friends at school are bailey pickett,cody martin,zack martin,marcus little,marion mosbey,mary-margaret,maddie fitzpatrick,carey martin,woody fink and corrie.london has always been put into all the tipton industries,which london disagrees with but in the end london has fun with her new best friends.
members of the tipton family:
wilfred
wilfred's third ex wife(london's mother)
london
Ivana
Yolanda
karina
brandi
14 other ex wives of wilfred
khun yai
scamp(ivana's husband and maddie's dog)
Moseby's unnamed puppy(ivana and scamp's puppy)
Maria Consuelo Margarita del Cielo (Esteban's puppy and ivana and scamp's puppy)
Prince Percival Percimmon Dulac (London's puppy and ivana and scamp's puppy)
Scruffy (Maddie's puppy and ivana and scamp's puppy)
(to readers of this page please add more information about london tipton or give some ideas to help make this page better)
Community content is available under
CC-BY-SA
unless otherwise noted.