Presumably a hybrid is a mixture between a ordinary human and magical creature or a  wizard(which is a magical creature) or a two magical creatures example:A hybrid between a werewolf and a dragon name dragwolf. or a human and a magical creature:a hybrid between a vampire and a human.They are similiar to both species.
 Personality   
They have a personality made up of both species.example:a bad temper of a werewolf and a human.
Powers and Abilities
Presumabily they have powers from both species but not all of them.Like a hybrid between a human and a werewolf it has werewolf abilities but not all of them lacks some of them and is probably incapable of ever having them ex.He doesnt have inhuman strength like other werewolf.Beacuse he doesnt have a full blood of a werewolf.
Weaknesses
Presumably has all weakneses of both species.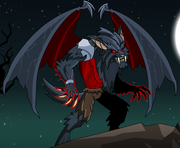 Community content is available under
CC-BY-SA
unless otherwise noted.