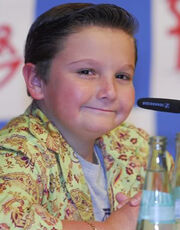 Frankie is Justin's rival. He seems to have a crush on Alex and Harper, and he is often seen scamming Justin. Although he is just a child, Frankie seems to have the personality of an old time Italian gangster.
Frankie has a similar personality to Stanley in That's So Raven and Rico in Hannah Montana. They are all young, short in height, they seem to have a crush on the female protagonist (main character), and they are seen scamming the protagonist's brother.
He first appeared in the episode New Employee. He usually stays by the Waverly Sub Station. Paulie Litt later returns in the season 3 episode "Dad's Buggin Out" as "Joey the Crepe Kid," who is hired to cook crepes at Justin's Alien Language League party.