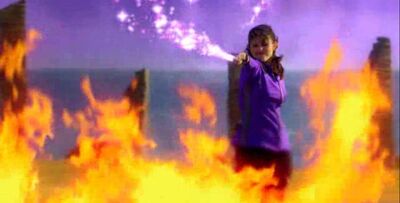 Elemental Magic is a branch of Wizard powers that, like it suggests, evolves the four elements: earth, air, fire and water. This branch is the one that the Wizards had to use in the Wizard Competion.
Elemental Spellcraft
Contrary to the RPGs' Mages, Elemental Magic is more of exhibitionism than of make damage and its spells are quite impressive and fascinanting.
Wizards can conjure a hose-like water spell right from their wands and make swirls that allow them to move faster. They can even conjure rain (which is also includes air). The spells on the air section include a gust of air that's specially useful to move the magic orb from the Altar. Fire spells includes the conjuring of a literal firewall.
The Earth section is the most ipressive. It can be used to conjure mud pools to make the Wizard fall and stop fighting. Other is that can transmute the Wizard body into mud. But the most impressive is that can allow to teleport right to the altar within a gigantic flower.
Photo Gallery