Cucuy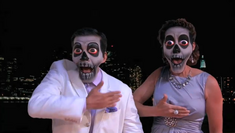 Information
Production
"That's the name of this scary latino mythical creature that my mommy thaught me about to make me behave..."
―Theresa talking about the Cucuy
The cucuy is a Latin magical creature that possess great wealth. Like Wizards and Werewolves, the Cucuys live in the real world.
Biology
Cucuys possess a human appearence, and over time they grow old. By using magic, Cucuys can change their face to a dark-gray skull shape, with large red eyes.
Social Habits
"We live in the real world like you Wizards do..."
―Carlos Cucuy talking about the Cucuy soical habits
Cucuy live on Earth rather than in the Wizard World, enjoying a lavish life thanks to their wealth. However, they do have connections with the Wizard World, buying wizarding magazines and keeping touch with magical events. Also, Cucuy enjoy scare human children. They're also terrified of werewolves.
Magical Powers
Shapeshifting: Cucuy possess a limited form of Shapeshifting, enabling them to change their face into a dark-gray skull.
Appearences
Community content is available under
CC-BY-SA
unless otherwise noted.