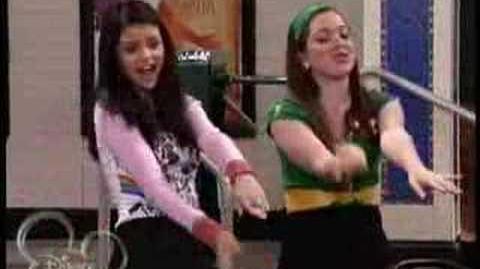 Crazy Hat Song is a song performed by Alex Russo (Selena Gomez) and Harper Finkle (Jennifer Stone) and is featured in the fourth episode of the first season, New Employee.
Crazy Hat Song is performed whenever Alex & Harper see a person wearing peculiar hat. It was first sung when Alex and Harper saw a student wearing a hat at Tribeca Prep, then again at the Waverly Sub Station when Harper gets a job there and sees a customer wearing a cowboy hat, then lastly at 'Gurtbarn' when Alex has a big pile of frozen yogurt on her head.
This song has been sung by Alex & Harper, Alex alone, Alex & Theresa and Alex, Harper & Theresa together.
Lyrics
What's that? A hat?
Crazy, funky, junky hat
Overslept, hair unsightly
Trying to look like Keira Knightley
We've been there, we've done that
We see right through your funky hat
Community content is available under
CC-BY-SA
unless otherwise noted.