Tags: apiedit, Visual edit

 

(3 intermediate revisions by 3 users not shown)
Line 2:
Line 2:
 

'''Centaur Girl''' was a female [http://en.wikipedia.org/wiki/Centaur centaur] Justin took to [[WizTech]] prom.

 

'''Centaur Girl''' was a female [http://en.wikipedia.org/wiki/Centaur centaur] Justin took to [[WizTech]] prom.

 
 
−

It's said that she has blonde hair and from the sandwich shop desk looks like a normal girl but has a body of a horse. She ate all the carrots from the sandwich shop, making them unable to serve carrot dishes for over a week. She was mentioned in ''"[[Western Show]]".'' She has not made any appearances apart from the end of Beware

+

It said that she has blonde hair and from the sandwich shop desk looks like a normal girl but has a body of a horse. She ate all the carrots from the sandwich shop, making them unable to serve carrot dishes for over a week.

 
+
 
+

She was later mentioned in ''"[[Western Show]]".''

 
+
 
+

<nowiki> </nowiki>She has not made any appearances apart from the end of [[Beware Wolf]].

 

[[Category:Characters]]

 

[[Category:Characters]]

 

[[Category:Teens]]

 

[[Category:Teens]]
---
Latest revision as of 07:39, 7 October 2016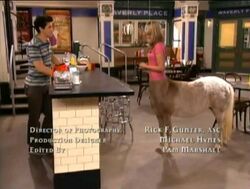 Centaur Girl was a female centaur Justin took to WizTech prom.
It is said that she has blonde hair and from the sandwich shop desk looks like a normal girl but has a body of a horse. She ate all the carrots from the sandwich shop, making them unable to serve carrot dishes for over a week.
She was later mentioned in "Western Show".
She has not made any appearances apart from the end of Beware Wolf.
Community content is available under
CC-BY-SA
unless otherwise noted.