Line 10:
Line 10:
 

|hair color = Blonde

 

|hair color = Blonde

 

|occupation = Actress

 

|occupation = Actress

−

|wowp role = [[Juliet Van Heusen]]}}'''Bridgit Claire Mendler''' (born december 18 1992) is an American teen actress,singer,musician and songwriter. She played Pamela in Alice Upside Down in 2000, and is playing Kristen Gregory in the movie version of The Clique. She also plays Penny in Disney Channel's JONAS, and [[Juliet Van Heuson]] on Wizards of Waverly Place and she also appeared on Labor Pains as Emma Clayhill, Alvin and the chipmunks: The Squeakquel as Becca Kingston and Beverly Hills Chihuahua 2 as Marie Appoline Bouvier and she signed with Hollywood Records which plans to release her debut studio album in 2012.

+

|wowp role = [[Juliet Van Heusen]]}}'''Bridgit Claire Mendler''' (born 18 1992) is an American teen actress,singer,musician and songwriter. She played Pamela in Alice Upside Down in 2000, and is playing Kristen Gregory in the movie version of The Clique. She also plays Penny in Disney Channel's JONAS, and [[Juliet Van Heuson]] on Wizards of Waverly Place and she also appeared on Labor Pains as Emma Clayhill, Alvin and the chipmunks: The Squeakquel as Becca Kingston and Beverly Hills Chihuahua 2 as Marie Appoline Bouvier and she signed with Hollywood Records which plans to release her debut studio album in 2012.

 
 
 

[[File:Nick-jonas.jpg|thumb]]

 

[[File:Nick-jonas.jpg|thumb]]
---
Revision as of 06:48, 28 October 2011
Bridgit Mendler

Biographical
Full Name

Bridgit Claire Mendler

Nickname(s)

Bridge

Gender

Female

Date of Birth

December 18, 1992

Place of Birth

Washington DC, USA

Height

5'6"

Eye Color

Brown

Hair Color

Blonde

Occupation

Actress

Role
Bridgit Claire Mendler (born December 18, 1992) is an American teen actress,singer,musician and songwriter. She played Pamela in Alice Upside Down in 2000, and is playing Kristen Gregory in the movie version of The Clique. She also plays Penny in Disney Channel's JONAS, and Juliet Van Heuson on Wizards of Waverly Place and she also appeared on Labor Pains as Emma Clayhill, Alvin and the chipmunks: The Squeakquel as Becca Kingston and Beverly Hills Chihuahua 2 as Marie Appoline Bouvier and she signed with Hollywood Records which plans to release her debut studio album in 2012.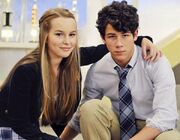 Bridgit Mendler left Wizards of Waverly Place in the episode Wizards vs. Werewolves due to the filming of her new Disney sitcom Good Luck Charlie. Selena Gomez has said that Juliet and Mason are not done with Wizards yet, meaning they could appear in later episodes. Many fans were depressed by her last appearance on Wizards, but were determined that her character would return after becoming one of the most important things in the world to David Henrie's main character, Justin Russo.
Their characters do reunite, but Juliet leaves again with to Translavanyia after finding out her parents want her there. This time, she does leave forever, since the title of the episode is called, " Juliet leaves forever". However, their true romance was one of the few things that may lead to her return in future episodes of the last season, (4) or possibly the 2nd movie.
Bridgit Mendler also sang the theme song for Tinker Bell and the Great Fairy Rescue, called How to Believe.She also stars on as Teddy Duncan Good Luck Charlie.
Related Links
Community content is available under
CC-BY-SA
unless otherwise noted.