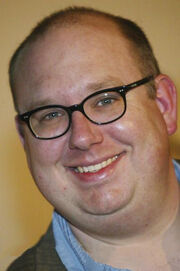 Bill Chott
(born July 23, 1969) is an American actor and comedian.
Early life
During his school years, Chott appeared in numerous plays and musicals[citation needed] . He continued appearing when he was in college at Central Methodist College in Fayette, Missouri, with starring roles in both comedic and dramatic plays and musicals. Leaving St. Louis in 1992, he headed to Chicago, IL and immediately broke into improvisational theater at Comedy Sportz, IO (formerly known as Improv Olympic), and became one of the creme de la creme of the Second City comedy troupe, where he studied with people such as Steve Carell, Stephen Colbert, Tina Fey, and Amy Poehler. He was a student of Del Close, founder of Second City.[citation needed]
He starred in the highly popular show named Wizards Of Waverly Place.
Career
He toured the country with the Second City (alongside Tina Fey and Amy Poehler) which resulted in his appearance at a gig in New York City in 1995 with The Dana Carvey Show, reuniting him with Carell and Colbert. Working with fellow castmate Robert Smigel, he was cast as the announcer for the animated short The Ambiguously Gay Duo which continued on after The Dana Carvey Show to Saturday Night Live.
His movies (in chronological order) include Galaxy Quest, Dude Where's My Car, Dancing at the Blue Iguana, Brainwarp, Dante's Inferno, Wild Girls Gone, and The Ringer, his most notable character being Thomas the love-struck Special Olympian from The Ringer.
His television appearances (in date order) include The Dana Carvey Show, Third Rock from the Sun, Freaks and Geeks, Popular, ER, She Spies, Crossballs, Weekends at the DL, CSI, Wizards of Waverly Place, It's Always Sunny in Philadelphia and Monk.
He is famous for his character as Mr. Laritate in Wizards of Waverly Place
His voice work includes The Ambiguously Gay Duo, Invader Zim, and Curious George (PBS series).
Besides voice-overs, commercial work (Taco Time), television and film, Chott continues to perform improv in various shows around the globe at various improv or comedy festivals and events. He also teaches improv classes in his hometown of St. Louis, Missouri. Chott has been to Special Olympics events in places such as Osage Beach, Missouri. Chott even visited schools for Spread the Word to End the Word, an origination to remove a discriminational word offending the disabled, and traveled with Special Olympian, Kristina O'Neal.
External links
Community content is available under
CC-BY-SA
unless otherwise noted.