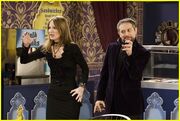 Alucard van Heusen is a vampire, the husband of fellow vampire Cindy van heusen, and father of vampire Juliet Van Heusen.
We first see Alucard in "Wizards vs. Vampires On Waverly Place" in his sandwich shop, Late Nite Bite, when Justin comes in to investigate the new sandwich. Alucard realises that Justin works at the Waverly Sub Station and there to steal their ideas. He later arrives at the substation telling the Russo's that making Justin play with his daughters feeling was low, even for wizards. At first he wouldn't allow Justin and Juliet to date but gave in after they begged him, and when his wife reminded him how they were young and in love once.
In Wizards vs. Vampires: Tasty Bites Alex goes to Alucard and his wife to ask if they can get Juliet to stop making her family eat healthy but instead he gives Alex and Harper a job at Late Nite Bite. After they've started working for him, he tells them that the reason why Juliet is so healthy is that she is a young vampire and that they make humans eat healthy as it makes the blood taste better.
When Alucard is talking a photo for Alex and Harper's ID cards, Alucard and his wife look like they are fighting over who should help Alex with her photo but were really fighting over who should drink Alex's blood and who should drink Harper's. When the Russo save them, Max is covered in Pumpkin which the Van Huesens' say is toxic for them just like garlic is. The Russo's ask for apologies for the van Huesen trying to drink there blood but Alucard gives them free Ice cream instead.
On a side note Alucard is Dracula spelt backwards and is also the name of actual powerful vampires in many different stories. Including from the show Hellsing and the movie Dr. Terror's Gallery of Horrors.
Appearances
Wizards vs. Vampires On Waverly Place (first appearance)
Wizards vs. Vampires: Tasty Bites (last appearance)
Trivia
Alucard is Dracula backwards.