"Alex's Brother, Maximan"

Season 2, Episode 5
Air date

October 19, 2008

Writer
Director
Episode Chronology
←
Previous

"Racing"

→
Next
"Alex's Brother, Maximan" is the fifth episode of season two of Wizards of Waverly Place, and the 26th of the overall series. It first aired on October 19, 2008.
Plot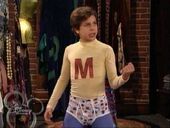 The kids fail at their group magic project, so Jerry devises a plan that will force them to work together. Now Alex must wrestle with sacrificing her first one-on-one date with Dean so that she and Justin can help "Maximan", Max's alter ego. Meanwhile Justin builds a robot, which he also sacrifices to help Max.
Summary
Magic
Spells
Havity No Gravity - The ability to defy one's gravitational pull.

Note: This spell requires two other wizards.

Soap on a rope, soap fell off a rope, rope shot out of my hand, rope tie up that man - Ties a man up with a rope. (requires two helping wizards)
Production Notes
Trivia
This episode first aired in both the UK and the US on the same day.
There is a shop in this episode called Murrieta Clown Supplies, another obvious reference to Peter Murrieta.
Max calling himself Maximan is possibly a reference to the

DC Comics

hero Maxi-Man
Max's voice sounds a little deeper than it was in during the first few episodes of Season 2 due to the fact that Jake T. Austin hit puberty during the production of the last few episodes of Seasons 1 and 2.
Cast
Gallery
Behind the scenes