"Alex's Brother, Maximan"

Season 2, Episode 5
Air date

October 19, 2008

Writer
Director
Episode Chronology
←
Previous

"Racing"

→
Next
"
Alex's Brother, Maximan
" is the fifth episode of
season two
of
Wizards of Waverly Place
, and the 26th of the overall series. It first aired on October 19, 2008.
Plot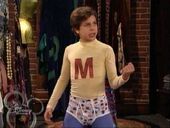 The kids fail at their group magic project, so Jerry devises a plan that will force them to work together. Now Alex must wrestle with sacrificing her first one-on-one date with Dean so that she and Justin can help "Maximan", Max's alter ego. Meanwhile Justin builds a robot, which he also sacrifices to help Max.
Summary
Magic
Spells
Havity No Gravity - The ability to defy one's gravitational pull.

Note: This spell requires two other wizards.

Soap on a rope, soap fell off a rope, rope shot out of my hand, rope tie up that man - Ties a man up with a rope. (requires two helping wizards)
Production Notes
Trivia
This episode first aired in both the UK and the US on the same day.
There is a shop in this episode called Murrieta Clown Supplies, another obvious reference to Peter Murrieta.
Max calling himself Maximan is possibly a reference to the DC Comics hero Maxi-Man
Cast